English Holiday Programmes
CAMP DE VACANCES EN JUILLET 2022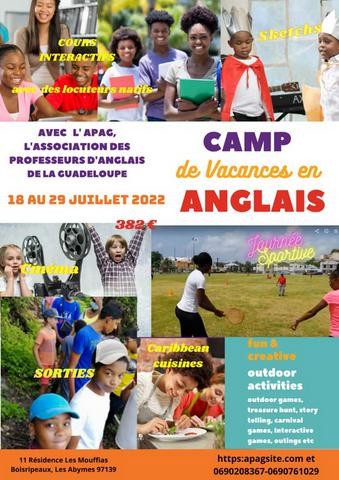 Programme d'apprentissage en anglais pour la saison de juillet 2022
Les voyages restent encore suspendus pour cette année 2022 mais l' APAG propose pour ces vacances une nouvelle expérience d'entraînement, encore plus dynamique du 18 au 29 juillet.
Les étudiants suivront des sessions d'apprentissage actives du lundi au vendredi, en sorties en Grande Terre et en Basse Terre, en extérieur , et au Centre APAG, 11 résidence les Moufias- Boisripeaux, Abymes.
Joindre les professeurs locuteurs natifs: 0690208367 et 0690761029 ou autres contacts APAG.
ou procéder directement à votre inscription ou pré-inscription, le nombre de places est limité:
End of Holiday Programmes
At the end of the progamme the students receive their certificate.