"

I want you to shine a light for little girls and boys in Dominica to follow," Skerrit declared to New President Sylvanie BURTON
Prime Minister Roosevelt Skerrit has declared that the inauguration of Dominica's first indigenous President, Her Excellency Mrs. Sylvanie Burton, underscores his government's unwavering commitment to the empowerment and progress of the indigenous Kalinago community. His remarks came on October 2, 2023, when Burton officially took her Oath of Office as Dominica's 10th president, replacing Charles A. Savarin.....
The head of government noted that in this era of heightened social awareness, where representation holds significant importance, the government takes pride in its track record of providing both the women and indigenous people of Dominica a more prominent voice in the administration of the country's affairs.
...He added, "Her Excellency Slyvanie Burton stands tall on a distinguished career as a public officer of 39 years, rising to the rank of permanent secretary. She is a dedicated community and cultural leader in the Kalinago territory, where she cultivated the trust
and confidence of her people over many years of advocacy for the improved status and integration into the socio-economic life and heritage of Dominica."
...In conclusion, Skerrit expressed confidence in Burton's ability to serve the country with pride and distinction, urging her to promote a spirit of unity and harmony among all Dominicans throughout her term in office.
Note that a president in the Commonwealth of Dominica serves as a ceremonial head of state, with the Prime Minister being the head of government.
The president is elected by the House of Assembly. Dominica has a two-party system, ( DLP & DFP), which means that there are two dominant political parties, with extreme difficulty for anybody to achieve electoral success under the banner of any other party.
Here's a list of some of the presidents since the country became a republic in 1978,
Fred Degazon (acting, 1978-1979)
Aurelius Marie (1979)
Nicholas Liverpool (2003-2012)
Eliud Williams (2012-2013)
Charles Savarin (2013-2021)
CARICOM Milestone 50th Anniversary
Launch of the celebrations: Tuesday 4 July, 2023 in Chaguaramas T&T

On Tuesday, 4 July, the 50th Anniversary of the signing of the Treaty which created CARICOM, the Heads of Government and delegates will return to Chaguaramas, the venue of the historic signing, for a commemorative ceremony which will feature a Flag Raising event; planting of a Time Capsule and addresses by the CARICOM Chairman and host Prime Minister.

During the day's business session, representatives of foreign governments and heads of international organisations will be invited to pay special tributes to CARICOM in honour of the milestone. Regional cultural artistes will also pay tribute in song, dance, steelband music and other artforms during a CARICOM 50th Anniversary Concert.
Message by Chairman of CARICOM, Prime Minister of Dominica, the Hon. Roosevelt Skerrit, on the occasion of the 50th anniversary of CARICOM, 4 July 2023
Wealthy UK family apologises in Grenada over slave-owning past
A British family made history on Monday February 27th 2023 by issuing an apology and paying reparations to the island of Grenada.

In the presence of public officials, delegates, students and other members of the community, members of the Trevelyan family made a public apology to the people of Grenada on behalf of their ancestors. That family had owned over 1,000 enslaved Africans who worked across six sugar plantations in Grenada.

After abolishing slavery in 1834, the Trevelyan family was paid £26,868 the following year in compensation by the British Government. Now, alongside their apology, the family has donated a £100,000 fund to the country of Grenada.

This fund will contribute to the establishment of a Reparations Research Fund at the University of the West Indies which will research the economic impacts of slavery with a focus on development in the Eastern Caribbean.

Their written apology was populated with signatures from members of the family and, after being read at the ceremony, handed over to Prime Minister of Grenada Dickon Mitchell. more to see and read
A project in 2022 fulfilled in 2023
A UK family will publicly apologise to the people of the Caribbean island of Grenada, where its ancestors had more than 1,000 slaves in the 19th Century.

The aristocratic Trevelyan family, who owned six sugar plantations in Grenada, will also pay reparations.

BBC reporter Laura Trevelyan, a family member, visited Grenada in 2022. READ IT ALL
Jamaica to become a Republic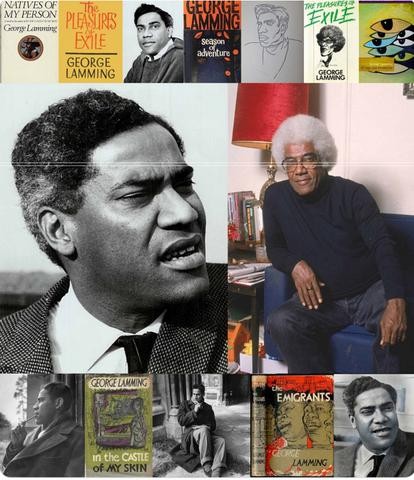 Barbadian novelist, essayist, and poet George Lamming passed away on Saturday, June 4, 2022.
The author of "In the Castle of my Skin" passed away four days before his 94th birthday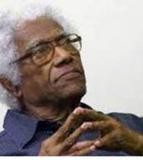 Dame Sandra Mason Is First President-Elect of Barbados
Volcano Eruption: SAINT VINCENT and The GRENADINES
COVID-19:

Velma POLLARD Jamaican poet and fiction writer tells us about the situation in education in JAMAICA
Students who are taking official Examinations: (CSEC and CAPE) have just finished a week of school in classrooms with the NEW spacing and all wearing masks, All other students are still at home. Teachers expressed a little anxiety about going back out but students seemed glad to see their friends and to get face to face teaching. One problem over the weeks has been the uneven access to the internet or the expensive access to it. Some children in deep rural areas and others who are very poor have not been able to take advantage of the classes. Besides, the internet servers have not always been able to keep up with the load of students working from home and parents working from home!!!Teachers particularly in the rural areas have been very creative in getting lessons to students using ground transportation etc.
A smaller problem with the reopening has to do with teachers who are parents of school age children. These children are at home so those teachers have to make day care arrangements or ask to continue teaching from home
The students seem to have adjusted quickly to the hand washing stations and the the distancing but have expressed frustration at not being able to interact with their friends
This exercise will definitely help school authorities fine-tune plans for full reopening in September.
COVID-19: The Trade And Health Link
The COVID-19 Virus, a communicable disease declared a global pandemic by the World Health Organization (WHO), has highlighted the interconnectivity of the world through globalization. Its impact on national and global economies has brought to the fore the critical link between trade and health and the relationship between the WHO and the World Trade Organization (WTO) as well as other trade-related organizations such as the United Nations Conference on Trade and Development (UNCTAD) and the World Intellectual Property Organization (WIPO).... read more
Dominicans return Prime Minister Skerrit with landslide victory
Victoire écrasante pour le Prime Minister sortant Roosevelt Skerrit du DLP (dominican Labour Party ( le parti travailliste de la dominique)
Le DLP remporte 18 des 21 sièges , les 3 autres allant au United Workers'Party (UWP) conduit par Lennox Linton.
Le Premier Ministre a tout de suite promis d'inviter le leader UWP à discuter pour le retour de la paix et la sécurité dans le pays et à engager les procédures pour une réforme du système éléctoral très largement remis en question durant cette dernière camapagne.
Read more ...
CARICOM TODAY
Symposium sur la question des réparations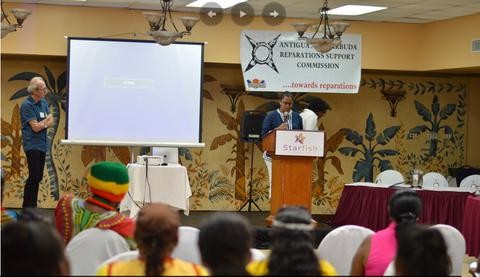 DOMINIQUE
SOLIDARITE APAG ET ECHANGE
L'APAG n'a pas dérogé à sa tradition de témoigner son soutien à ses voisins de la Caraïbe dans les moments difficiles. ..


Read the article

Hello APAG
We are very happy and grateful to receive all the items sent. Here is the list:
Small box: 8 French textbooks.
Large box: 7 pairs school shoes, 30 school shirts, 6 boxes chalk, 10 boxes colored pencils, 3 boxes Bic pens, 5 boxes colored markers, 2 boxes board markers, 1 box pencils, 3 pks. Cristal pens.
We have a number students at Convent High School who lost their school uniforms and school supplies in the flood. I will see that they get the shoes and shirts, etc. and convey your warm wishes to the recipients. I will also distribute supplies to some other schools in our area and in the country. I will keep a record of all distributions.
Thank you again for your donations. I will be in touch next week.
Cheers,
Dear Colleagues
Thanks to your kindest contribution APAG was able to increase its donations. Thank you to all those who participated...
APAG

Chlordecone Scandal in the Caribbean